EU Film Days 2020 Online brings to the audience 21 works (including 7 to be made available in Japan for the first time) from 20 EU member states.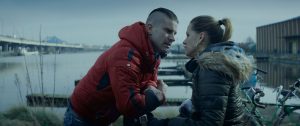 Dates : Friday 12 – Thursday 25 June 2020 
Aoyama Theater https://aoyama-theater.jp
* only accessible from within Japan
Registration to the service (free of charge) is necessary.
For details on how to watch the films and their period for which they are available, please refer to the Aoyama Theatre website.
D'Ardennen / The Ardennes (Flanders / Belgium )
Director: Robin Pront / 2015 / Belgium (Flanders) / 93 minutes
Dutch・French (Japanese subtitles・English subtitles)
Brothers Dave and Kenneth are reunited on Kenneth's release after four years in prison following a failed home invasion. While Kenneth is anxious to dive headfirst into the drug-centered exstence that ensnared him in the first place, both Dave and Kenneth's erstwhile girlfiend Sylvie, have adopted clean lifestyles. Drugs, crime, and the bonds of brotherhood create this dark thriller journey in the Ardennes.