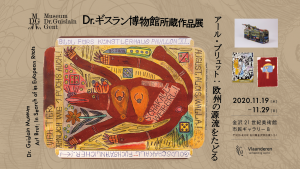 Art Brut, in Search of its European Roots 
Artworks of the Dr. Guislain Museum (Ghent) on show at 21st Century Museum of Contemporary Art, Kanazawa, People's Gallery B
Period : 2020.11.19 (Thu.) – 2020.11.29 (Sun.)
Venue : 21st Century Museum of Contemporary Art, Kanazawa People's Gallery B 
Admission:Free
The Dr. Guislain Museum of Ghent brings an overview of the history of outsider art in Europe, highlighting how art, created by people suffering from mental illness, was appreciated differently over time. From the time where patients were held in complete isolation in psychiatric institutions (first half of the 20th century) up to the recent decades where inclusion became the aim and mental health got de-institutionalised. 
These evolutions in approaching psychiatric care have also drastically changed the way artworks were collected and appreciated. Apart from this being a well-documented exhibition with original art pieces, the aim is especially to generate conversations and give room for debate and meetings. 
Lectures, among other things, will be held in cooperation with BIDAI (the Kanazawa College of Art). These activities are aimed at a broad public: the 21st Century Museum of Contemporary Art has 1.2 million visitors (in 2018) and a diverse and wide variety of visitors (from Kanazawa and other cities).
Related Event:
Symposium "Art Brut: In search of its European roots" (Online)
Time: Thursday, November 19, 2020 17: 00-19: 30
Participation: Online (keynote speeches + live panel discussion)
Participation fee: Free (reservation required)
Languages ​​used: Japanese / English
Program:
17:00-17:30 Keynote Speech (1): Bart Marius (Artistic Director, Dr. Guislain Museum)
17:30-18:00 Keynote Speech (2): Asako Barkman Ishii (Professor Emeritus, University of Fukui / Special Needs Education)
18:00-19:30 Panel discussion "How to improve the production environment and the social status of artists with disabilities"
Panelists: Bart Marius, Asako Ishii, Masatake Takei (J Gallery & Cafe), Kenichiro Sakano (Social welfare corporation everyone goes)
Moderator: Shichio Minato (Professor, University of Fukui / Director of this exhibition)
Organizer: Dr. Guislain Museum Collection Exhibition Executive Committee
Co-organized by: Dr. Guislain Museum, Kanazawa College of Art, University of Fukui, Arts Flanders Japan
Cooperation: NPO E & C Gallery
Grant: Flanders Government (Belgium)
Patronage: city of Ghent, city of Kanazawa, Embassy of the Kingdom of Belgium