You are cordially invited to attend the first symposium focusing on safer intaglio printmaking (a.k.a. non-toxic printmaking) on Japanese soil on March 8, 9 and 10 in Kanazawa, Japan
The event, organized by Shichio MINATO and Marnix EVERAERT,  will take place on Friday 8, Saturday 9 and Sunday 10 March, 2019 at the 21st Century Museum of Contemporary Art and the Kanazawa Yawaka Sousaku no Mori, Centre for Crafts and Culture in Kanazawa, Japan.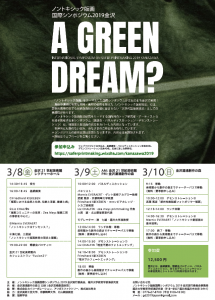 While most events focus only on the practical side, this symposium will also bring a theoretical view upon this matter.
Safer and more sustainable printmaking goes far beyond new techniques and material, it's also having an impact on the way we think about the nature of printmaking. Is 'non-toxic' printmaking opposing traditional ways of working? Why is there so much opposition? Is this 'green way' as 'green' as it pretends to be? Should 'non-toxic' be the way printmaking is taught in schools, studios, and residencies…? These kinds of questions and remarks can be important to think about. In the end, we always must be critical. Even about the things which we love and believe in.
Talks by Liz CHALFIN (Zea Mays printmaking Studio, USA), Friedhard KIEKEBEN (Columbia College, Chicago, USA / nontoxicprint.com), Marnix EVERAERT (Academy for Visual Arts, Ghent, Belgium), Makoto DOI (Studio Kitayama, Kyoto, Japan),  Shichio MINATO (University of Fukui, Japan) and Atshuhiko MUSHASHI (Seika University, Kyoto, Japan).
During this symposium demonstrations will show the versatility this way of working offers within the field of intaglio printmaking.
An accompanying exhibition will show a nice selection of works made with safer printmaking intaglio techniques >
Gallery space at the Kanazawa Yawaka Sousaku no Mori, Centre for Crafts and Culture.
​English will be the main language. Translation English><Japanese will be available.
EXTRA! In the summer of 2019 a 4 day workshop safer printmaking will be given by Marnix EVERAERT in Japan. Place and exact dates are not clear at the moment. If interested, leave your address on the contact page. We will keep you informed.